Windows Vista – Install Printer Problem
This page explains how to overcome problems installing a network printer on a Vista machine. The situation is that you have the correct printer driver installed on a server, but you cannot install that printer locally on the Vista machine. Your server could be XP or Windows Server 2003. Another feature of the scenario could be that other desktops and laptops can print successfully to that server, but not the Vista machine, instead they show: error 0x00000035.
Windows Vista – Install Printer Problem
♦
What I did was download a Vista driver from the printer manufacture's site. After I installed this driver on the print server, a message box invited me to click and install files to enable my Windows Server 2003 to print. This I did and printing worked on the server itself.
The problem appeared when the Vista laptop refused to install the network printer, instead it gave the error 0x00000035 message (see screenshot below).
This error 0x00000035 message translates to 'The network path was not found'. However, I was puzzled because there was no typo error. I could see the printer on the server, and I dragged and dropped the network printer into the Vista Printer folder. In addition I tried three other ways of installing this network printer, all to no avail. Nevertheless I persevered with the idea that this Vista printer error was indeed due to an incorrect UNC path.
One riddle was that the printer was actually shared with a UNC of:
\\ server\HP2420 yet the Vista (and XP) interface reported it as:
\\ server \HP LaserJet 2420 PCL 6.
I noticed that HP's site had both a PCL 6 and a PCL 5 series driver. As the PCL 6 series is superior, I downloaded and installed that version.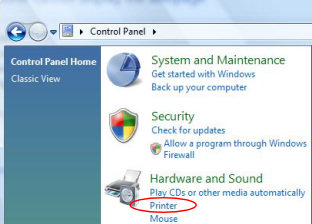 1) On Vista machines, find the Printer folder via:
Control Panel –> Hardware and Sound –> Printer
2) Add Printer
3) Add a network wireless or Bluetooth printer (2nd Option)
4) The printer that I wanted isn't listed
5) Select a shared printer by name
6) \\ server\ sharename
7) Vista printer installed successfully
1) Vista Control Panel –> Hardware and Sound –> Printer (See Screenshot above)
2) Add Printer
3) Add a local printer (1st Option)
4) Create a new port (2nd Option)
5) Type of Port Local
6) Port Name
Enter a port name (Dialog Box)
\\ server \sharename (Careful go to print server double check Share Name)
7) Vista printer installed successfully
Situation on the Print Server
I got both the above install methods to work without making any other changes on the print server. In one case when I merely updated the printer drivers to Vista, the XP machines would no longer print. Therefore, I reverted to the old XP drivers, I was able to get the above solutions to work despite not using Vista drivers. My point is the technique for installing Vista network printers, is more important than the drivers.
Recommended: Solarwinds' Permissions Analyzer – Free Active Directory Tool
I like thePermissions Analyzer because it enables me to see WHO has permissions to do WHAT at a glance. When you launch this tool it analyzes a users effective NTFS permissions for a specific file or folder, and takes into account network share access, then displays the results in a nifty desktop dashboard!
Think of all the frustration that this free SolarWinds utility saves when you are troubleshooting authorization problems for user's access to a resource. Give this permissions monitor a try – it's free!
Download SolarWinds' Free Permissions Analyser – Active Directory Tool
I want to begin with a large dose of self-belief. You will solve this 'Spooler SubSystem App stopped working and was closed' problem. Trust me; others have already led the way and solved your problem. My difficulty is that there are is not one, but a number of different solutions. The two principle variables are:
a) The type of printer you are using.
b) The client / server orientation. Do you use a local printer? Or is this a network printer?
c) Have you tried the above method to Install Vista Printer
a) Manufacturer Driver
You know the manufacturer of your printer, visit their site and check for a Vista specific driver. Keep an eye out for Vista information, for example, do you have to copy their driver to a particular folder on the server (some HP Printer).
b) Print Server
The general principle is that:
i) You need a driver for each operating system. That means a Vista specific driver.
ii) When clients connect to the server, they have the built-in technology to snatch the drive from the server an install it automatically somewhere under this folder: C:\Windows\System32\spool\drivers .
If the general principles do not work for you, here are:
Three off-beat ideas.
i) Try an XP driver for a Vista client. This either works brilliantly, or fails spectacularly.
ii) Con the local machine to installing the printer. Then copy the local files up to the server. Nice idea, but you have no chance of making it work without researching the directories. Ray of hope – seek out a forum and ask the about: 'Spooler SubSystem App stopped working and was closed'.
iii) If this works, one of us needs shooting: Stop, then start the Spooler Service.
Click on: Start Orb:

Start Search : Services (Type)
Double click on Services
Scroll Down to Print Spooler
right-click and select 'Restart'
See more on troubleshooting your Windows 8 printer problem.
If you like this page then please share it with your friends
---
Configuring Windows Vista Topics:
Vista Tools and Extras

Download Your Tweak the Registry Ebook for only $6.45

This ebook will explain the workings of the registry. I thoroughly enjoy tweaking the registry, and I want to distill the best of my experiences and pass them on to you.

Each registry tweak has two aims; to solve a specific problem, and to provide general learning points, which help you to master regedit.

Over 60 pages ebook and PDF format