Windows 8 New Features
There is no doubt that the Metro UI will be the killer reason for early adopters to buy Windows 8. I see lots of cheap tablet sales to people who can't wait to get their thumbs on the apps in the new user interface.
In my opinion, the other new features illustrate how concepts that Microsoft introduced in Vista, and improved in Windows 7, have been perfected in Windows 8.
Windows 8 New Features Topics
♦
Windows 8 Metro-style UI Start Screen
The first thing you notice after Windows 8 initializes is a new tiled Start screen, which replaces the Windows 7 desktop. As you swipe the screen from right to left, a special overlay appears, which is rich in customizable Apps.
The new Windows 8 UI is not so much "Touch-centric", but "Touch-first."
While this new display feature is ideal for horizontal screens such as tablets, the tiles do work well on bigger screens because they respond to a mouse click almost as easily as a finger. Incidentally, the Metro UI also goes by the nickname MoSh (modern shell). See more on Windows 8 Metro-style UI »
Microsoft Windows 8 Requirements
No new features here! Windows 8 will need the same system requirements than it's predecessors, namely, for a 64-bit system:
1GHz Processor, 2MB RAM, 20GB disk space, DirectX 9 graphics card. You can get away with 1MB of RAM on 32-bit systems. Incidentally, Windows 8 will be the last desktop operating system to come in both 32 (x86) and 64-bit (x64) versions.
The only problem with Windows 8 requirements is that you really need a touch screen to benefit from the Apps in the New UI.
Windows Explorer Ribbon

Another new feature for Windows 8 is a ribbon for Explorer (I am not talking about IE here).
Microsoft introduced the ribbon in Office 2007; at first many of us did not 'get it'. But now I think the ribbon has come of age and I am comfortable with the Windows 8 version because the menus are better designed and more intuitive.
'Steadily improving and no longer a shock for we users.' Mr Sinofsky.
The new Windows Explorer focuses on three tabs at the top: Home, Share, and View. (See screen shot). Further down, on the left side is the File menu to cater for common operations such as 'Copy'. Incidentally, I find 'Copy as path' handy for pasting a file path into another Explorer window. See more on the Windows 8 Explorer ribbon »
Aero Auto-Colorization
Auto-colourization is an example of a Windows 8 feature that you can customize more than the equivalent in Vista or Windows 7. The idea is that you can change the appearance of Windows shell, menus and taskbar. It's worth seeing the extra Personalization options for example, Windows Color and Appearance.
Task Manager
The Windows Task Manager has changed, the information is now displayed with applications grouped in columns. Furthermore, it has several new tabs, notably 'Startup' so that you can remove programs that you don't want to load automatically at startup. (See screenshot below)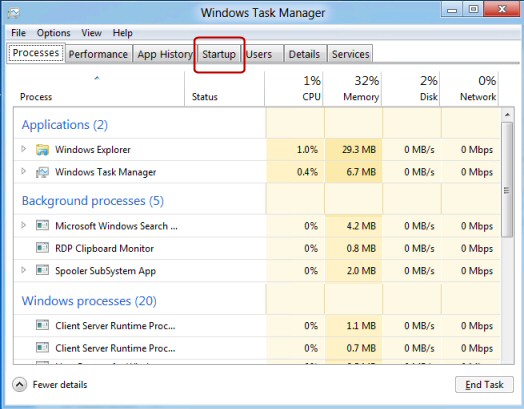 See more on the Windows 8 Task Manager.
Guy Recommends: A Free Trial of the Network Performance Monitor (NPM) v11.5
SolarWinds' Orion performance monitor will help you discover what's happening on your network. This utility will also guide you through troubleshooting; the dashboard will indicate whether the root cause is a broken link, faulty equipment or resource overload.
What I like best is the way NPM suggests solutions to network problems. Its also has the ability to monitor the health of individual VMware virtual machines. If you are interested in troubleshooting, and creating network maps, then I recommend that you try NPM now.
Download a free trial of Solarwinds' Network Performance Monitor
Windows 8 New Features
Windows 8 and IE 10
The Metro UI techniques also extend to IE 10, where the browser is optimised for touch, and panning. IE 10 has a split-screen keyboard so that you can type urls with your thumbs. It will also has hardware accelerated HTML 5 to support a whole range of apps.
Note 1: 'Internet Explorer Immersive' is an alternative to Aero Graphics for tablets, phones and some laptops.
Note 2: See how to configure the Desktop version of IE 10 in Windows 8 »
Portable Workspace
The catchphrase is 'Run Windows 8 from a USB Stick'; seems similar to a Linux Distro. The Portable Workspace Creator could be used to create copies of Windows 8 for troubleshooting, as well as for people on the move. Probably only available for the Windows 8 Enterprise Edition and above.
Windows devices connect faster and work better on Windows 8 than on previous operating systems.
Cloud Screen Integration
One possibility for the gung-ho is that you could setup your user account in the cloud, in this way you could logon from anywhere that has an internet connection and get your settings. Perhaps this is a case for having a second user account just for travelling?
It will also be easier to store data on Microsoft's own Skydrive, and to integrate with Office 365, Office Web Apps, Windows Live and Azure.
PowerShell 3.0
For those, like me, who enjoy monitoring and changing operating system settings with PowerShell, then version 3 is a joy with its 2000+ new cmdlets. However, the real benefit of PowerShell 3.0 is for professional developers; for example, AppX is Microsoft's new method for deploying applications in Windows 8, it's similar to Silverlight XAP, thus PowerShell has new cmdlets called Add-AppxPackage and Get-AppxPackage. See more about Windows 8 PowerShell »
Guy Recommends: WMI Monitor and It's Free!
Windows Management Instrumentation (WMI) is one of the hidden treasures of Microsoft's operating systems. Fortunately, SolarWinds have created a Free WMI Monitor so that you can discover these gems of performance information, and thus improve your scripts.
Take the guess work out of which WMI counters to use when scripting the operating system, Active Directory or Exchange Server. Give this WMI monitor a try – it's free.
Download your free copy of WMI Monitor
Naturally there is plenty of hype from Microsoft, but so far I am not picking up the usual gripes and Microsoft bashing, at least developers and power users seem happy with Windows 8.
"Windows 8 is a true reimagining of Windows from the chip to the interface."
Tami Reller of Microsoft
Windows 8: The Trend for a Better Laptop–> Tablet
Laptop users were the most vociferous critics of Vista. Microsoft listened, then made improvements to the battery life and awakening from 'Sleep'. Windows 8 continues the battle to win back laptop users by removing interrupts and timers that interfere with the operating system when it's trying to save power.
Windows 7 blocked processes that tried to wake-up laptops automatically when they're not plugged in. Windows 8 takes this a stage further with a new 'intelligent alarm' that wake them up for remote desktop or virus scans, but only if they're plugged in.
Windows 8 will also be designed for mobile devices that use System on a Chip (SoC).