SolarWinds Virtualization Manager v7.0
Virtual Machines are great for reducing hardware costs, but they do tend to 'Grow like Topsy*'. SolarWinds' Virtualization Manager (VMAN) is the classic tool to control VM sprawl by answering these questions:
How many VMs are there in our organization?
Which VMs are struggling, and thus need more resources?
How can I load balance to achieve better performance?
Which VMs are idle, and are literally a waste of space?
* When Topsy in Uncle Tom's Cabin was asked, 'Who made you', she replied, 'Nobody, I spect I just growed'.
Evaluation of the Award Winning Virtualization Manager
This feels like like a half-way house to robotic control; at present the Recommendations Engine merely suggests actions for you the system administrator to take in managing VM instances. My guess is that one day Virtulization Manager will optimize capacity based on existing resources automatically.
In Virtualizaton Manager you will see Active Recommendations to solve problems identified by VMAN alerts. There are also Predictive Recommendations to help you be proactive. For instance, you can make adjustments based on past trends in capacity utilization and performance, and thus prevent critical issues in the future. Be sure to check the Policy Engine to see how recommendations are create and if necessary you can modify the recomendations provided by SolarWinds.
Recommendation Strategies
Host Performance and Capacity Assurance: Thus identifies hosts that are about to run short of CPU or memory resources.
VM Right Sizing Optimizations: Identifies Virtual Machines where resources have been inappropriately allocated, furthermore, it recomends adjustments so that you can optimise resources for the present workload.
Storage capacity assurance: Identifies hosts which are running short of disk capacity.
Balancing VM Workloads on Hosts: Re-distributes VMs across hosts to optimise VM workload utilization.
VMAN is an early adopter of the next-generation user experience (Apollo) as seen in the new recommendations UI. Apollo delivers improved usability, faster UI response times, and consistency with our new user experience.
The SolarWinds dashboard is like Houston's mission control. As well as giving you all the information you need on clusters, virtual machines and data stores, it's a thing of beauty the way it allows you to drill down to CPU and memory usage on individual hosts.
Underneath the integrated virtualization manager there must be lots of collection sensors, but on the surface you just see a dashboard displaying color-coded information. For example, when 'CPU ready time' reaches a critical threshold it's shown in red on the dashboard.
Perhaps I have been leading a sheltered life, but I have never before seen an interface where you could press a button and see what happened an hour ago, or even last week.
More information
VM Sprawl Control
Review the SolarWinds VM video by Jonathan Reeve
Virtualization Manager doesn't rely on SNMP to collect data, instead it uses VMware APIs to collect data from vCenter or from ESX(i) hosts. Typical VM's would be Exchange, SQL or Oracle servers.
This intuitive tool displays resource information about individual VMs or clusters. For example, you can make useful savings by reclaiming wasted terabytes owing to unused VMs
I realize that you have a job to do in managing your virtual machines, but if you are like me then you always want to learn something new about VMs, or make a connection between the underlying technologies. My point is that the VM is always showing you extra interesting stuff, such as seasonal usage trends.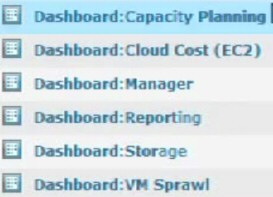 As I am reviewing SolarWinds Virtualization Manager I am thinking about which existing clusters need more disk space; and if I can identify underused clusters then I can redistribute VMs memory or CPU. As Virtualization Manager helps me to achieve these goals, so it helps me to control VM spawn by identifying VM's that have not been used in the last month.
One feature I haven't seen before with virtualization management is the ability to play WhatIf games. This takes the guess work out of adding more memory.
No appraisal of SolarWinds Virtualization manager would complete without a discussion of bottlenecks. I always find it satisfying to spot, then remove a bottleneck, but guessing which resource is responsible for latency can lead you to the wrong conclusion, it's much better to study reliable data collected by a well-designed utility such as the Virtualization Manager.
Unfortunately the 2nd law of bottlenecks still applies, 'Whenever you remove one bottleneck, there is always another'. The good news is as you remove each limiting factor, so create a more responsive system.
Evaluate the SolarWinds Virtualization Manager.
Benefits of Virtual Machines
Computers typically operate at less than 20% of their computing capacity. By creating virtual machines you can increase resource utilization to 75% by running multiple operating systems on a single host. For example, on server could run a virtual email server, while another could manage a virtual database server.
However, you need a virtual machines monitor to ensure that you are not trying to run too many VM's. Occasionally, my virtualization manager alerts me to a test VM that is no longer needed, and could free-up space for other VMs.
Migration is so much easier with VMs compared with the old days of one machine, one operating system. In particular there is less problem of downtime while a new system is brought online.
Monitoring Cloud Computing
Cloud computing has created performance monitoring challenges similar to virtual machine management. Contention for shared CPU, memory, network, and storage resources make it difficult to spot the bottleneck.
SolarWinds Virtualization Manager was designed to help you identify the limiting factor on your VMware ESX or Microsoft Hyper-V cloud computing deployment. In particular this monitor will analyze storage I/O problems unique to private cloud environments.
Perhaps I missed this ability to embed html when I assessed similar utilities, but I loved the idea of using the widget to create a link which I could insert into a web page. Simply right-click the widget and copy the html code and paste into your page. See more about Virtualization Manager on the Thwack forum.
Video of Virtualization Manager – VM Spawn Control
Here is another review of virtual server manager, learn how to setup this useful addition to your toolbox.
How to Install the SolarWinds Virtualization Manager
I found the hardest part of installing this gismo was remembering where I downloaded the zip file! From there it was all downhill. I extracted the .msi file, and then clicked on the licence agreement, and let the install wizard do the rest.
After the install completes the Virtualization Manager launches and you are ready to begin. Should you need find the application later look on the start menu, or if all else fails navigate to:
C:\Program Files (x86)\SolarWinds\
Should you need to uninstall, then go to the Control Panel, Programs, scroll down to 'S' for SolarWinds.
Patching Virtual Machines
If the VM is online, then the process of applying a Microsoft update to a Virtual Machine is practically the same as for a physical machine. It's only situations where the machine is offline, and thus misses its patch, which causes headaches. One obvious solution is to awaken the sleeping the VM and apply the update. Another modern idea is to actually change, or manipulate the .vhd file. See more on SolarWinds patch management.
Thwack Forum for Virtualization Manager
Check out the Thwack forum. You will find a vibrant group of IT enthusiasts who are performing network management daily. Benefit from their expertise, see more on the Thwack forum.
More Tools for Managing Virtual Machines
Solarwinds have a free VM monitor especially for Hyper-V. This freeware product will show you at a glance if any of your VMs are down. With a little more investigation you can see the CPU and memory usage. Ideal if you want to monitor just one host machine.
See Solarwinds free VM Monitor »
Summary: Review of SolarWinds Virtualization Manager
The benefit of a good virtual server utility is that you see the big picture yet drill down into the detail of storage, memory or CPU. Remember that the whole rationale behind virtual machines means it's easier to respond when server demands increase.
You can also win techie games like find the biggest bottleneck, and stamp out VM sprawl. Download an integrated Virtualization Manger trial
Free and 30-day Trial Virtual Machine Software
Here are my recommendations for additional handy utilities. Many of these downloads are free, while others are fully-functional, but time limited. SolarWinds are happy to provide you with a free specialist tool, which is ideal for testing, and then supply a more comprehensive suite for larger organizations. To let you into a secret, for small networks, the free tool is all you'll ever need.
• Virtualization Manager • SolarWinds Application Monitor • Storage Response Time Manager
• VM Monitor • User Device Tracker • Free Network Bandwidth Monitor • Free SNMP Tool
• VM-to-Cloud • SolarWinds WMI Monitor • LanSurveyor • SolarWinds SIEM • Home