SolarWinds Firewall Browser – Free Utility
The keyword with this SolarWinds utility is browser. Here is an interface where you can review firewall settings such as access control lists (ACL), or troubleshoot problems with network address translation (NAT).
Other reasons to download this SolarWinds Firewall Browser include managing requests to change your firewall settings, and testing firewall rules before you go live.
Evaluation of SolarWinds Firewall Browser
Once you have downloaded and installed the Firewall Browser, you can see its capabilities by looking at the 4 example firewall configurations that SolarWinds provides.
I found the 'Display outline view' icon as a great starting point, see screenshot opposite. This browser is pretty intuitive for finding firewall rules for specific IP addresses.
Double-clicking items in the browser works well, especially for drilling down to see details of the Security Rules for the various service. In addition to the source and destination IP address, the access lists in the CLI column is invaluable for troubleshooting connectivity problems.
Once you have a general impression, courtesy of the built-in examples, seek out the 'Add Your Firewall' icon and then the wizard will guide you through creating an inventory for YOUR network routers and their firewall.
Big Brother – Little Brother
Sooner rather than later you should realize that SolarWinds has two similar products, the free (Firewall) Browser and the paid-for (Firewall) Security Manager. See here how David Hurst puts the 'Big Brother FSM thought its paces:
See more about the role of the Firewall Security Manager in Security Information & Event Management Security (SIEM)
Double clicking on any firewall in the inventory will show details. When troubleshooting, comparing the 'Source' with the 'Destination' column is useful for checking the real and mapped IP Addresses. I can also recommend scrolling to the right to investigate the access control information.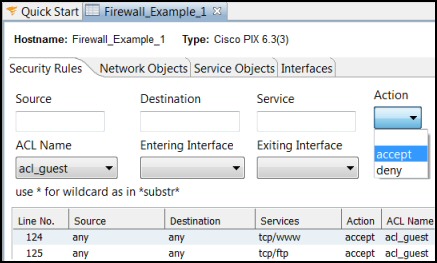 If you have a query about an aspect of the firewall, then use the powerful search options; seek out the Source, Destination and Service boxes at the top of the interface. See screenshot to the right.
For example; try a simple filter by port number or IP Address; alternatively, search by using a more complex firewall rule.
This is a great free utility for evaluating your router settings. It's also a chance to test-drive a firewall browser before you buy its 'Big Brother' the Firewall Security Manager (FSM).
Requirements for SolarWinds Firewall Browser
It would be an exaggeration to say this utility works on every computer, however I have yet to find a Windows 7/8 or Server 200x machine which did not run SolarWind's Firewall Browser. SolarWinds suggest having 8GB of RAM if you are going to analyse firewall with lots of complex NAT and ACL rules.
That said, I had a strange incident on my Windows 7 machine when setup failed twice, something about a browser problem. Unfortunately, I did not get a screenshot, but it seemed to be saying the browser was already open even though I had not yet installed it. So I closed my IE 10 browser, and tried again; whereupon the installation worked faultlessly.
Summary: SolarWinds Firewall Browser
This is a great free utility for evaluating your security rules on your firewalls and routers. It's also a chance to dive-deep and explore an unlimited number of configurations before you buy its 'Big Brother' the Firewall Security Manager (FSM).
A key feature of this installation is that it includes 4 example firewalls, which makes it easy to test drive the utility if you don't want to add your network configurations just yet.
Additional Free and Trial SolarWinds Network Software
Here are nifty gadgets which I have enjoyed testing on my network. Some are completely free, while other downloads are trial versions of the full product. I think SolarWinds have a great strategy, namely, supplying a free utility, yet providing a big-brother suite of programs for larger organizations.
• Permissions Analyzer • Review Alert Central • Free NetFlow Analyze • SolarWinds Firewall Browser
• Netflow Monitoring Explained • SolarWinds Web Help Desk • Wireshark Response Time Viewer
• Mobile IT Admin App • Call Detail Record Tracker • VoIP Network Quality Manager • Home