From the SolarWinds Family – DameWare Mini Remote Control (MRC) Version 8:
THE Power Tool for Remote Management
DameWare solves the problem of how to troubleshoot user problems without leaving your desk. As a bonus, the same MRC interface means that you can remotely control your Windows servers, thus saving you that long walk to that noisy server room.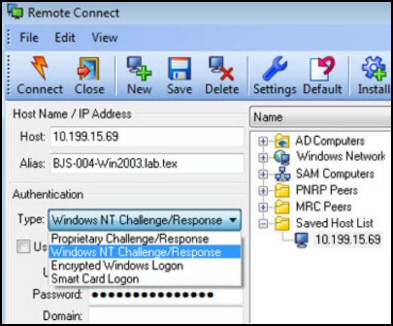 It may occur to you that you could use the built-in Windows Remote Desktop instead of DameWare. The difficulty with that solution is that the distant troubleshooter would lock-out the local user because Remote Desktop licensing allows only one user at a time to see the screen.
Remote support is more efficient if the user and techie can work together, and another advantage of using MRC is that the two parties can exchange chat messages.

Features of DameWare MRC Version 8
It's quick to install the client agent from an .MSI package.
No connection problems as DameWare configures the Windows firewall.
From the techie's point of view, they can navigate the remote machine as if they were sitting at the user's desk.
Not only does the session start quickly, but there is no latency when the technical support clicks on the remote machine's menus.
MRC licensing is based on the number of administrators using DameWare, and not the number of client's machines they are examining.
The two new features in version 8 are Chat, and the ability to capture screenshots.
Remote Operating Systems Supported
Windows XP or later.
Windows Server 2003 or later.
32 or 64-bit operating systems.
DameWare Connection Options
Works with IPv4 or IPv6 protocol.
Proxy Server available for Jump-Hosted environments.
Connects via Mini Remote style connection or RDP (Remote Desktop Protocol).
Even has Wake-on-LAN ability if the user has gone away. See screenshot right.
How DameWare Supports the User
Share sessions/ screen, but must give permission before the support staff can connect.
Instant screenshot to capture and save symptoms.
Simple file transfer to repair machine.
Multi-monitor support.
Chat for the end-user and the helper to ask questions.
Evaluate DameWare MRC's Security
For banks, and other organizations that require maximum security and encryption, DameWare MRC provides the latest encryption and other security capabilities to protect the client machines.
Smart Card Login
Interactive Smart Card Login is available. Authenticate with Remote Smart Card Authentication using a Smart Card and PIN from your local machine. No Smart Card middleware is required, and no Smart Card reader needs to be installed on the remote machine. MRC is the only known third-party remote administration tool with this capability.
Encryption and Other Security Measures
Using FIPS-140 certified Cryptographic Providers and CryptoAPIs which are built-in to the Microsoft's operating systems.
You can also restrict access based on group membership and IP Filtering. It's also useful for auditing as well as security to send email notifications to a specified address each time a connection is made to a remote machine.
Solarwinds MRC Demo Video
Here is a good way to review Dameware MRC:
If you are searching for tools to connect to users machines, then evaluate this remote control software from Dameware.
Remote Desktop Case Studies
When users find there is something wrong with their machine, not only does it affect their productivity, but also their morale. A quick call to tech support and an expert can connect securely and diagnose the problem using DameWare.
In my experience, remote troubleshooting either takes 2 minutes, and the user is grateful and gets back to their tasks. Alternatively, it's a case of structured problem solving that could take 2 hours, at the end of which the user thinks, 'I could never have solved that on my own'.
Problem: User has deleted a shortcut to their contact software.
Solution: Retrieve the icon from the Recycle Bin! (2 mins).
Problem: A corrupted registry.
Solution: Perform a repair (Up to 2 hours if it's a server).
Problem: System running slowly.
Identify cause: A partial hard disk failure.
Solution: Backup any local data, order a replacement disk.
DameWare Remote Support
As with many of their products, SolarWinds provide a basic entry level tool for free, and then a 'big brother' application for those who need scalability and more robust features. The MRC product I have reviewed here has a 'big brother' see more on remote control software. (DRS).
Summary: Review of DameWare Mini Remote Control
This MRC software is part of the SolarWinds family; it's designed for troubleshooting remote machines, Dame Ware Mini Remote Control is secure, flexible regarding Windows client operating systems and transparent to uses.
More Free and Trial Network Software
Here are Guy's reviews, recommendations and download links for additional handy utilities. Many of these programs are completely free, while others are fully-functional, but time limited. One common theme is that SolarWinds give you a free specialist tool ideal for testing, and then supply a more comprehensive suite for bigger networks. To let you into a secret, for small networks, the free tool is all you'll ever need.
• Free Real-Time Network Monitor • Review SNMP Enabler • Review Network Traffic Analyzer
• Review of DameWare Mini Remote Control • DameWare Utilities • Diagnostic Tool for WSUS Agent
• Dameware Remote Support • SolarWinds LEM • Review of SolarWinds Patch Manager • Home