How to Set Process Priority Windows 8 Task Manager
Most items in the Windows 8 Task Manager are easier to use, but setting Process Priority or Process Affinity requires one crucial click: More details.
Windows 8 Set Process Priority
♦
Just as with previous operating systems, you launch the Task Manager in Windows 8 with Ctrl +Shift, +Esc. Alternatively, type 't' at the Metro-style UI; Task Manager will be listed amongst the Apps beginning with 't'.
In the unlikely event of this not working check to see if your task manager has been disabled.
Assuming the Windows Task Manager has launched:
Spring the 'More details'
Click on the 'Details tab' (not Processes).
Right-click the 'Name' of the process, and 'Set priority'.
I recomend that you choose 'High', or 'Above normal'.
Warning: Do not select 'Realtime', it will cripple your machine.
Guy Recommends: SolarWinds' Log & Event Management Tool
LEM will alert you to problems such as when a key application on a particular server is unavailable. It can also detect when services have stopped, or if there is a network latency problem. Perhaps this log and event management tool's most interesting ability is to take corrective action, for example by restarting services, or isolating the source of a maleware attack.
Yet perhaps the killer reason why people use LEM is for its compliance capability, with a little help from you, it will ensure that your organization complies with industry standards such as CISP or FERPA. LEM is a really smart application that can make correlations between data in different logs, then use its built-in logic to take corrective action, to restart services, or thwart potential security breaches – give LEM a whirl.
Download your FREE trial of SolarWinds Log & Event Management tool.
You need several logical processors for 'Set Affinity' to work. The downside is that in some instances it will cause your machine to run slower.
Assuming that the Windows Task Manager is running, once again select the Details tab. Right-click the process you are experimenting with, click Set Affinity and choose one or more processors.
More New Windows 8 Task Manager Features
It's worth noting that the name of the executable been changed from taskmgr.exe to tm.exe. More importantly, the new interface displays the process information in columns. Observe the new technique of grouping process, for example 'Applications (3)' and 'Background processes (12)'. See screenshot below.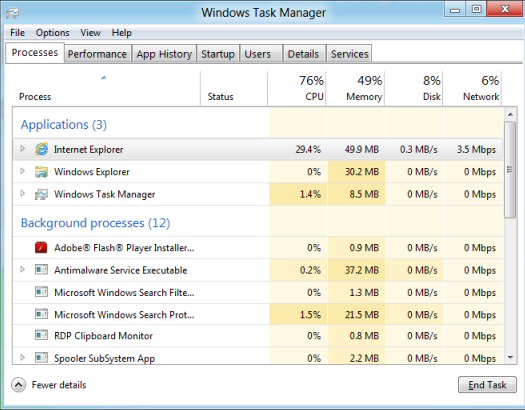 My reason for visiting the Processes tab is to investigate suspicious executables. I realize that the Windows Task Manager itself is a well-known program, however, you can use it as an example; right-click then select 'Open File Locations', now you can examine the path, in this instance it's: %WinDir%\System32\TM.exe.
If you find a process with 'Status suspended'; you can right-click (this or any other process) and troubleshoot. One option to find out more about hanging programs is 'Analyze Wait Chain'. Remember that you only get this option to spot deadlocks if you right-click a process in the Details view.
See more about Windows 8 Task Manager »
Summary of Windows 8 Process Priority
Launch the Windows Task Manager click on 'More details', select not the Processes tab but click on the 'Details tab' (Key Point). Incidentally, you can use this method to 'Set Affinity' of a process to a processor.
If you like this page then please share it with your friends
---
Microsoft Windows 8 Troubleshooting Topics
• Windows 8 Overview • Windows 8 Event Viewer • Windows 8 Shutdown • Mobile Admin
• Windows 8 Task Manager • Windows 8 MDOP and DaRT Tools • Windows 8 Printer Problem
• Win 8 Troubleshooting • Windows 8 V4 Printer Drivers • Windows 8 Sleep Problems • Tookit