Windows Vista Ultimate – Extra Features
Think of Vista Home Premium as son of XP Home. Now think of Vista Ultimate as the result of a mating between XP Pro (Mother) and XP Plus Pack (Father). The trouble is that these Ultimate Extras 'children' are slow developers and in fact, many of Vista's Extras have yet to be released.
'No compromise' is Microsoft's catchphrase for its Vista Ultimate edition and that phrase sums the situation; if you read about a Vista feature, then you can be sure that it's in the Ultimate Edition – somewhere.
Windows Vista Ultimate – Features
♦
Is Windows Vista Ultimate good value for the extra money? ($150 more than Vista Home Premium). The answer is probably the same as for many top-of-the-range products. No, but… On purely logical grounds you cannot justify the purchase price. But once you have spent the extra money, you purr as you enjoy Ultimate's extra features. As you savour the neat bonus applications, you think 'yes it was worth it'. For those who start with the Home Premium or the Business edition there is a Windows Anytime Upgrade option.
I try not to worry about what other people buy, nevertheless, the breakdown of Vista purchases is interesting:
Windows Vista Ultimate ……….46%
Windows Vista Home Premium ..37%
Windows Vista Home Basic ……..9%
Windows Vista Business …………8%
If you are unsure about paying the extra for Vista Ultimate up front, then Windows Anytime Upgrade is for you. With this deal from Microsoft you just pay the difference and upgrade to the Ultimate edition. Once you make your secure online purchase, Microsoft will give you a digital key so that you can upgrade your Home Premium (Home Basic) or Business Vista to a more feature-rich edition. When you have downloaded that digital key, just insert the Windows Vista DVD that came with your PC and let Vista complete the upgrade.
Here are the suggested retail prices (MSRP) for a Windows Vista upgrade from a more basic edition:
Home Basic –> Home Premium: $79
Home Basic –> Vista Ultimate: $199
Home Premium –> Vista Ultimate: $159
Business –> Vista Ultimate: $139
Windows Anytime Upgrade is available in the USA, Canada, Europe and Japan.
Windows Vista Home Premium –> Vista Ultimate
I actually upgraded Windows Vista Home Premium to Vista Ultimate. The process was as smooth as silk. Your only problem will be time. It took about the same length of time to upgrade as it did to perform a fresh installation. Fortunately, there are two pieces of good news, all your previous settings are preserved, and there was virtually no need for user interaction, merely supplying the Product Key at the very beginning of the upgrade. I am confident that other upgrades will be just as easy.
Although it can also be deployed on any desktop Vista machine with sensitive data, Windows BitLocker Drive Encryption comes into its own on laptops. In fact BitLocker could be the killer reason to purchase the Ultimate Edition. The security works because the drive remains encrypted even if the disk is transferred to another machine; without the encryption keys it cannot be compromised by installing a parallel Vista, or any other operating system. See more on Vista BitLocker
The key concept is Online Backup. The idea is to use Secure Online Key Backup to hold BitLocker's recovery password, and your recovery certificate for the Encrypting File System. All the recovery files are saved to a secure Microsoft Web site called Digital Locker. The benefit is if you lost these keys and certificate you would be locked out of your drive, however, thanks to SOKB, you could download the password from Microsoft's secure Digital Locker site and access your data.
DreamScene
Windows DreamScene utility allows you to choose a video file instead of a wallpaper and thus create an animated desktop – flashy, cool, or a distraction? I see DreamScene as a toy for computer trainers to impress their students. For ordinary users DreamScene may be a victim of its own success – too distracting and thus make users less productive rather than more productive. See more on Vista DreamScene.
Games
In addition to the usual Windows games, Ultimate has a good fast game of 'Holdem Poker', ideal to learn the game without being fleeced by the sharks in the online poker schools. The extra games are interesting there is something for everyone, but this is not the killer reason to invest in Vista Ultimate.
GroupShot
Guy Recommends: A Free Trial of the Network Performance Monitor (NPM) v11.5
SolarWinds' Orion performance monitor will help you discover what's happening on your network. This utility will also guide you through troubleshooting; the dashboard will indicate whether the root cause is a broken link, faulty equipment or resource overload.
What I like best is the way NPM suggests solutions to network problems. Its also has the ability to monitor the health of individual VMware virtual machines. If you are interested in troubleshooting, and creating network maps, then I recommend that you try NPM now.
Download a free trial of Solarwinds' Network Performance Monitor
In the spring of 2007 there are not many Windows Ultimate Extras available, the cupboard looks bare. Thus the question is 'Do you trust Microsoft to stock the Windows Ultimate Extras with new applets, gismos and features'? In many ways if you buy with the Ultimate Edition now, then you are trusting that Microsoft has lots of new useful goodies in the pipeline. If you have doubts that Ultimate is worth the extra money, then buy one of the cheaper editions and take advantage of Windows Anytime Upgrade when you see reviews of 'killer' applications available only to Vista Ultimate.
With Windows Ultimate Extras, just as with XP's Power Pack, it's a case that only a few of the programs are useful. It's a combination of there is something for everyone, and one man's meat is another man's poison. I rave over utility X, while you say utility X is useless, but you say utility z is brilliant.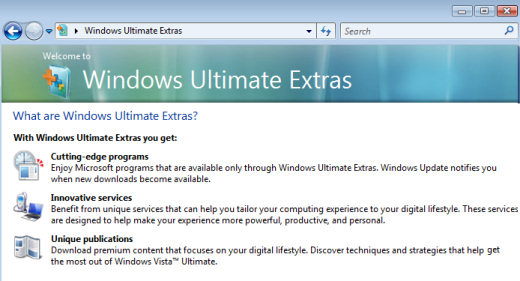 Recommended: Solarwinds' Permissions Analyzer – Free Active Directory Tool
I like thePermissions Analyzer because it enables me to see WHO has permissions to do WHAT at a glance. When you launch this tool it analyzes a users effective NTFS permissions for a specific file or folder, and takes into account network share access, then displays the results in a nifty desktop dashboard!
Think of all the frustration that this free SolarWinds utility saves when you are troubleshooting authorization problems for user's access to a resource. Give this permissions monitor a try – it's free!
Download SolarWinds' Free Permissions Analyser – Active Directory Tool
Cutting-edge programs in Windows Ultimate Extras
Business
Accruent
Lectra
Right Hemisphere
Standout
Lifestyle
Innovative services
Unique publications
(Learning)
British Library services
Knowledge Adventure (USA Teaching Program)
The killer reason to invest in Vista Ultimate is to get BitLocker Drive Encryption for your laptop. Even if you have no need for disk encryption, business logic dictates that Microsoft will release a steady stream of Windows Ultimate Extras. If you have the spare $150 then splash out on Vista Ultimate and get the 'Extras' from day one. If money is tight, or you are sceptical, then buy the cheaper edition now and take advantage of Windows Anytime Upgrade as Microsoft release more Windows Ultimate Extras.
If you like this page then please share it with your friends
---
Configuring Windows Vista Topics:
Vista Tools and Extras

Download Your Tweak the Registry Ebook for only $6.45

This ebook will explain the workings of the registry. I thoroughly enjoy tweaking the registry, and I want to distill the best of my experiences and pass them on to you.

Each registry tweak has two aims; to solve a specific problem, and to provide general learning points, which help you to master regedit.

Over 60 pages ebook and PDF format