Windows Vista > Control Panel -> Network and Sharing Center
Vista has several sections with similar names. Here is where I review Microsoft's new Vista Network Sharing Center. What particularly impresses me is Vista's Diagnostics Tool.
Network and Sharing Center is where you get a bird's eye view of your machine's relationship with the network. One new buzz word that's gradually surfacing is the word 'Personalize'. XP's 'Properties' menu item is often replaced with Vista's 'Personalize' equivalent. Thanks to the 'Personalize' button, I changed the name of my network Connection to = 'Oak Room'. This technique is most useful where you have multiple network cards.
Orientation (See in Address Bar Below):
Control Panel
Networking and Internet
Network and Sharing Center
Normal view of the Network and Sharing Center – Connections working OK
I would like to start with a diagram showing the Vista computer connected successfully to the internet; later I will introduce network problems. Note Microsoft's rich graphical clues, not only the bold icons, but also the Explorer toolbar. If you were to click on Network and Internet in the address bar, then Explorer takes you back up to that level. (The picture below is a thumbnail)
In the Windows Vista Network and Sharing Center you can turn on / off the following:
Network discovery
File sharing
Public folder sharing
Printer sharing
Media sharing
What I found particularly useful in the Network and Sharing Center was the link: Show me all the files and folders I am sharing.
Thus utility makes it easy to check the health of a router or firewall. Check the real-time performance, and availability statistics, for any device on your network. Get started with an extensive collection of "out-of-the-box" monitors for popular network devices. Give Network Monitor a whirl – it's free. Download your free Network Device Monitor
Problem with Network Connection?
Here is an expanded view of a Vista Network and Sharing Center. It showing that route from the Vista machine to the internet is 'Not connected'. If you hover over the red cross, 'Click to diagnose' appears. In real life clicking would activate the troubleshooting wizard. See below.
Vista is full of diagnostic or troubleshooting wizards to give you clues when resolving problems. If you double click on the above graphic (in real life!) see below what would happen next:
Windows Network Diagnostics Tool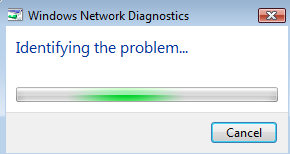 Windows Network Diagnostics Tool
On a good day, the Diagnostics Tool would give you a resolution to your problem. Here is such a good day!
See below what happens when the Vista's Network Diagnostics effects a repair. What it's doing is enabling the network adapter that I disabled at the start of this experiment. In 'real life' the Windows Network Diagnostics is capable of more sophisticated analysis and more far reaching repairs.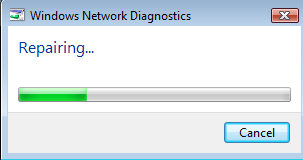 Summary of Windows Vista Network and Sharing Center
Vista's Network and Sharing Center reminds me of the MMC. In their own way, each are like being in a 'Mission control'. From the Network and Sharing Center, you can survey all your machines connections and their settings. Two extra features you will see a lot of in Vista are, 'Personalize' instead of 'Properties', and Diagnostics Tool instead of the troubleshooting Wizard.
If you like this page then please share it with your friends
---
Configuring Windows Vista Topics:
Vista Tools and Extras

Download Your Tweak the Registry Ebook for only $6.45

This ebook will explain the workings of the registry. I thoroughly enjoy tweaking the registry, and I want to distill the best of my experiences and pass them on to you.

Each registry tweak has two aims; to solve a specific problem, and to provide general learning points, which help you to master regedit.

Over 60 pages ebook and PDF format