Windows Vista Desktop – Tips and Tricks
Microsoft has built Windows Vista from scratch. While the desktop is very like XP, it feels as though everything has been very slightly improved. In truth, many of my tips and tricks are not new to Vista, however, it's my bet that you overlooked at least 2 of my tips in XP.
Topics for Vista Desktop
♦
Suppose some of the icons in your Notification Area (Systray) are annoying you and consequently you want to hide them. My challenge is can you find the Properties sheet for the Notification Area? One trap is to click too far to the left and select the Properties sheet for the Taskbar, another trap is click on the actual speaker icon instead of on a vacant black area.
Once you spring up the menu shown to the right, you can select Customize Notification Icons directly from the short cut menu. Alternatively, you can select Properties and then Customize Icons. To fulfil my objective, we can now focus on the 'Behavior' Column and choose to 'Hide'. Repeat this last sequence for each of the Notification Icons that annoy you.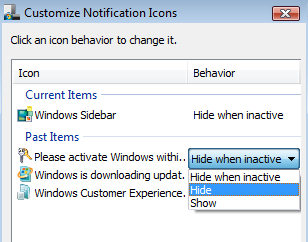 The technique of right-click with the mouse and then select Properties, is an action you can take on almost any Vista (or XP) object. Nothing new there. My point is that in the case of the desktop, precisely where you right-click affects the particular property menu that appears.
In addition to the Notification Area (featured above), other Properties sheets you could investigate include, Taskbar, Quick Launch and the very desktop itself. Decisions include, lock or Unlock the Taskbar, Start Menu Properties and Personalize the Desktop wallpaper. A feature of XP, which is even more evident in Vista is that menus have sub-menus. Thus a fresh installation of Vista is classic time to revisit old friendly options, plus the chance to discover new settings to make your Vista desktop more fun and productive.
Guy Recommends : SolarWinds' Free VM Monitor
The best feature of this new this new version of SolarWinds VM Monitor is that it checks Windows Hyper-V. Naturally, it still works with virtual machines on VMware ESX Servers. VM Monitor is a clever desktop tool that not only tests that your server is online, but also displays the CPU and memory utilization for each node.
It's easy to install and to configure this virtual machine monitor, all you need the host server's IP address or hostname and the logon info. Give this virtual machine monitor a try – it's free.
Download your free copy of SolarWinds VM Monitor.
One of the few genuinely new features in Vista is Add to Quick Launch. This is not an earth-shattering capability, but it illustrates how Vista builds on XP with literally hundreds of tiny improvements. Each improvement on its own is trivial, but together these improvements enhance one another, thus if you look at the whole, they really do add up to a smarter, faster, more efficient and less frustrating experience.
What' new in Vista is that each executable has the facility for you not only to 'Pin to Start Menu', but also to 'Add to Quick Launch' area. In XP you could achieve the same objective by dragging an executable onto the taskbar and confirming that you would like to create a shortcut there. Vista make this customization quicker and easier.
If you right-click in the main expanse of the Vista desktop, then up comes the Personalize menu. 'Personalize appearance and sounds' replaces the five tabs under XP's properties with a list of seven categories that you can configure:
Windows Color and Appearance
Desktop Background (See DreamScene)
Screen Saver
Sounds
Mouse Pointers
Theme
Display Settings
In many ways I should have started with this section, however the configuration is particularly easy and intuitive therefore you won't need much instruction to find the settings. The time to remember 'Personalize appearance and sounds' is when something strange happens, for example you lose the Aero Graphics, or you get a black background.
ClearType Font Technology
You may have read about Vista's new ClearType font. As the name implies it makes text easier to read on screen. I like this setting for laptop and flat-panel monitors, however, for older monitors you may find that disabling ClearType produces crisper fonts.
To see the difference and control ClearType:
right-click the Vista Desktop, Personalize.
Select: Windows Color and Appearance
Effects… and experiment with 'Standard'
Microsoft even have a ClearType tuner. This is a free download PowerToy!
Guy Recommends: A Free Trial of the Network Performance Monitor (NPM) v11.5
SolarWinds' Orion performance monitor will help you discover what's happening on your network. This utility will also guide you through troubleshooting; the dashboard will indicate whether the root cause is a broken link, faulty equipment or resource overload.
What I like best is the way NPM suggests solutions to network problems. Its also has the ability to monitor the health of individual VMware virtual machines. If you are interested in troubleshooting, and creating network maps, then I recommend that you try NPM now.
Download a free trial of Solarwinds' Network Performance Monitor
In XP, it is possible to display the My Documents folder on the desktop. While the technique described below is also available in XP, however, in Vista 'Show On Desktop' is more spectacular.
Click Start
right-click Username (Pauline)
Select 'Show on Desktop'
Return to the desktop and admire the new icon; it looks like a diary or an organizer and it contains a dozen folders, not just the Documents.
Resize Desktop Icons
Before I tackle the shortcut keys, here is a trick with mouse. Hold down the 'Ctrl' key and scroll the mouse wheel. See how the Vista Desktop Icons resize. You can also try this Ctrl +Scroll wheel trick in Windows Explorer.
Addendum: The Ctrl key and the mouse wheel also resize fonts and pictures in Internet Explorer (IE7).
Additional tips: Right-click the desktop and experiment with the settings under the 'View' and 'Sort By' menus. In particular make sure that you are happy with the 'Auto Arrange' and 'Align to Grid' options.
There are a number of Shortcut keys that are relevant to the Vista Desktop. Most of these tips involve holding down the key with the Windows Vista logo

, which is usually found between the Ctrl and Alt keys. What I do is hold down this Windows key first, then press the appropriate letter. This two-key procedure is often written with pair of keys separated with a plus sign, for example

+m. (Minimizes all windows)
Old Favorites
Let us start with

+d. What the Windows key and 'd' achieves is displaying the desktop. Other old favourites that also work in XP: Windows Key +Pause / Break key. This takes you directly to the System Icon.

+e is for Explorer and Windows Key and

+r launches the Run dialog box.
Although many users like it, I have never been a fan of

+L, lock workstation, but in Vista it also displays the 'Switch User' menu.
Brand New Vista Shortcut Keys.


+u activates the Ease of Use Center. (Useful for turning OFF Narrator or Magnify).

+t cycles through programs in the Taskbar, naturally you have to open and then minimise 2 or 3 programs to give this combination a chance to work.
Also

+Tab activates the new Vista feature called Flip 3-D. There is even talk of new keyboards having a special key dedicated to this Flip 3-D, rather like Microsoft now have a dedicated Windows key. Note that this feature is in addition to the Alt +Tab, this old 'cool switch' is referred to as plain – Flip.
Alt +Tab variation. Try

+1, or

+2 etc. What should happen is that you cycles through programs on the taskbar, therefore open a programs before you try this tip.

+g cycles through the 'Gadgets'. If fooled me the first time I tried it because I had not installed any gadgets, therefore the combination did nothing!

+spacebar brings the 'Gadgets' to the front, they seem to come through the desktop!

+x cycles thought the Mobility Center.

+a All Programs


F8 to Shutdown computer


F6 to Restart computer


F4 to Log Off
Guy Recommends: SolarWinds Free Network Bandwidth Monitor
This freeware monitor is great for checking whether your network's load-balancing is performing as expected, for example, are two interfaces are getting about equal traffic?
It's easy to install and straightforward to configure. You will soon be running tests to see how much network bandwidth your applications consume.
The GUI has a lovely balance between immediate network traffic data in the middle, combined with buttons to seek related data and configuration settings. Give this monitor a try, it's free!
Download your free network bandwidth monitor

+d Desktop


+e Explorer


+f Search (Find)


+g Gadgets


+l Lock workstation


+m Minimise


+r Run Command (Try with '\' backspace)


+t Quick Launch (Taskbar)


+u Ease of Access Center


+x Mobility Center


+Tab Flip 3-d feature


+Pause / Break key System Tabs
Once I have installed Vista (or XP), I am great believer in spending 15 minutes customizing my desktop until the menus and icons are to my liking. It's more effective to tackle the Personalize menus at the beginning of your Vista experience than be for ever coping with the default settings.
If you like this page then please share it with your friends
---
Configuring Windows Vista Topics:
Vista Tools and Extras

Download Your Tweak the Registry Ebook for only $6.45

This ebook will explain the workings of the registry. I thoroughly enjoy tweaking the registry, and I want to distill the best of my experiences and pass them on to you.

Each registry tweak has two aims; to solve a specific problem, and to provide general learning points, which help you to master regedit.

Over 60 pages ebook and PDF format