Free

Network Device Monitor from SolarWinds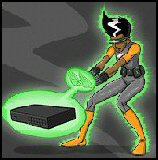 Here is a nifty piece of freeware for inspecting the health of the servers and routers on your network
What it Does
SolarWinds' free Network Device Monitoring software makes it easy to check and health of a server or router. It works in real-time and you get a desktop dashboard that sends a 'Bat' alert if your device is unavailable.
This gadget also monitors the real-time performance and availability statistics for any device on your network. Try it now!Download your free SolarWinds Network Device Monitor
Devices to Check

The Network Device Monitor will lead you through setting up your device, while it relies on SNMP, you don't have to be a MIB expert, just select from the drop-down menus.
Routers
Switch
Firewalls
Pre-Built Monitors
Get started with one of the SolarWinds collection of monitors for popular network devices. Alternatively, create your own custom network device monitoring template.
Thanks to this free Network Device Monitor, you can compile custom MIBs to monitor virtually any statistic on an SNMP-enabled network device.
Import (Templates) from Thwack
One of my favourite buttons is 'Import from Thwack (SolarWinds forum / community). Download templates for your NDM here.
Management Information Base (MIB)
No appraisal of Network Device Monitor would complete without a few words about MIB. The idea is that MIBs are hardware independent, and their information files that tell network management systems how to retrieve data using SNMP. MIB files describe objects using a special text format (Abstract Syntax Notation One ASN.1).
NDM Protection
Hackers are always trying to invade other people's networks. Analysis by this device monitor could give you early warning of attacks from these invaders, as a result you could repair problems swiftly.
Free Download:
Download your free Network Device Monitor
I found the hardest part of the install was remembering where I downloaded the zip file! From there it was all downhill, just a matter of extracting the .msi file, clicking on the licence agreement, and then watching the install wizard perform the setup.
After the install completes the Network Device gismo launches, and you are ready to begin. Should you need locate the program later look on the start menu, or if all else fails navigate to:
C:\Program Files (x86)\SolarWinds\Network Device Monitor
Should you need to uninstall, then go to the Control Panel, Programs, scroll down to 'S' for SolarWinds Network Device Monitor. It's a sign of a good freeware program that it uninstalls easily and completely. See more on Thwack forum.
The only real problem is that you can only check one device at a time. To be fair, this is a free tool, great to see if this type of monitor is of any use, if you want to use this technology serious then SolarWinds supply, and charge for, a 'big brother' tool called Network Traffic Analyzer.
Summary:

SolarWinds

Network Device Monitor

Freeware
SolarWinds' free utility makes it easy to check the performance and health of a router or firewall. Monitoring your devices relies on standard SNMP MIBs which are implemented by each vendor. Download the Network Device Monitor and then make your selection from 'Choose Monitor' pick list.
Additional Free and Trial Network Software
Here are my reviews of tried and tested applications to monitor your network. Most of these utilities are free, while the others are the full program, but time restricted. SolarWinds are a great source of free specialist tools. A constant theme is a free gadget for testing, backed-up with a comprehensive suite for programs for larger organizations. I like the way that big companies subsidise their smaller brethren… until they become large companies!
• Network Traffic Analyzer Freeware • Free Log Viewer • Review of Log & Event Management
• SolarWinds NPM Review • Network Device Manager Review • SolarWinds Product Review
• Free Network Config Generator • Review of WOL Gadget • Review of Web Transaction Watcher