Review of SolarWinds AppInsight for IIS and SQL
SolarWinds' AppInsight is not only excellent for Exchange server, but also highly esteemed for monitoring other Microsoft applications such as SQL databases and IIS web servers.
My speciality is getting people started on their path to learn a new computer technology. Therefore, I am pleased to report that with SAM (Server & Application Monitor) 6.0, and its AppInsight technology, even novice systems administrators can monitor complex SQL databases in an intuitive manner. As for expert administrators, they are thrilled to find troubleshooting tasks that took hours, can now produce the right answer in minutes.
Discovery. It still surprises me that thanks to the Network Sonar Discovery wizard, administrators are still finding servers that they did not know existed, or had forgotten about. For those who know their server inventory like the back of their hand it's still useful to flick through the servers in the 'All Applications' tree on SolarWinds' dashboard.
Dashboard. If you have spent hours using primitive tools, or creating scripts to monitor a server's operation, then you will truly appreciate the sophistication of how AppInsight displays performance metrics. For example, viewing the historical data in the dashboard saves manually setting performance counter traces, then waiting hours for meaningful results. Another clever design feature is the way you can home in on memory, latches & locks, connections, cache, paging, buffers, or whatever component you are troubleshooting. Only by trying out AppInsight for SQL can you appreciate the superficial simplicity of the top-level display, coupled with the ability to drill down into the fine twigs of any performance counter.
Database Details. A particular challenge when monitoring SQL is to compare the metrics of individual databases running on a particular server. The answer comes courtesy of one of SolarWinds' specialities:- 'Top 10' lists; they provide interesting and often surprising information on the relative performance of your SQL databases.
No review of AppInsight for SQL would be complete without a word about my favourite feature, Top 10 Expensive Queries; this is an excellent facility for tracking down the root cause of a slow response to any SQL query. And if that does solve the problem, then drill down to the dedicated Queries subview, here you can filter on a specific user, database, or time frame.
Overview. Classic problems that webmasters face include 404 errors, and pages rendering slowly. To solve problems when serving web pages, and to stay one step ahead of disgruntled users, employ a feature of SAM called AppInsight for IIS. Having mastered the website, you may also wish to monitor other applications running on the IIS server, for example, Outlook Web Access (OWA) and SharePoint.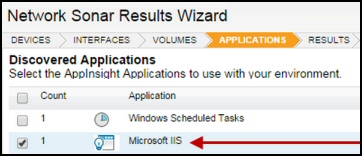 Discovery. As with other AppInsight applications, it's best to use the Network Sonar wizard to discovery your IIS servers, and list them in the console's tree.
The wizard currently works with WMI nodes. The alternative for nodes managed via SNMP is to manually assign AppInsight for IIS, just as you would any other application template in SAM.
Monitoring. The key point is that administrators can see and configure servers and their applications from the SAM console. For each website you can view useful information such as, the current status (Started / Stopped), number of connections, and the average response time.
From this dashboard administrators can employ their favourite troubleshooting techniques for instance: restarting services, restarting websites and application pools, killing processes, or even rebooting the server. Other less drastic solutions could stem from analysing the application pool usage, then looking at cost-nothing solutions such as redistributing resources.
PowerShell. AppInsight for IIS relies on PowerShell to collect information about the server and its application instances. Consequently you need to install PowerShell 2.0 (or later) on both the local Orion server, and on the IIS Server(s) that you are monitoring. Fortunately, modern Windows Servers (2008 R2 and later) include PowerShell by default.
The easiest way to add this feature is via the discovery process, in the console simply click on 'Settings' at the top left, then seek the 'Add Node' link.
While obtaining PowerShell is straightforward, installing and configuring Remote Management (WinRM) is much harder than most IT professionals will admit; thankfully, SolarWinds have made this configuration as simple as clicking the correct button.
Credentials. The classic problem is that SAM discovers your IIS server, but displays it as an 'Unknown' state. The solution is easy, click on AppInsight for IIS application, and launch the configuration wizard, which will solve the WinRM configuration problem. The only tricky question is your 'Choose Credentials', the answer is to either select from an existing account, or select New Credential. When you are done with the credentials, click on 'Configure Server', see screenshot.
Agent-based Monitoring. You can also run AppInsight for IIS with SolarWinds' new optional agent, this is particularly useful for remote monitoring of IIS servers, for example in your DMZ, or in the cloud. Be reassured that it uses a single encrypted port that's resilient enough to monitor across low bandwidth links.
Watch SolarWinds' expert Mario Gomez explains how to get the most from the AppInsight module through demonstrating a selection of dashboards.
Operating System. AppInsight for IIS works well on Windows Server 2008 and later operating systems, just make sure IIS v7.0 or later is running. For those unfortunate enough to be running earlier operating systems, SolarWinds supply an IIS v6.0 template on their website.
Note: AppInsight for IIS and SQL are components of SolarWinds Server & Application Monitor (SAM).
Thwack Forum for Troubleshooting AppInsight
If you have any problems with AppInsight for SQL or IIS, that cannot be answered by the in-built help, then just post your question in the Thwack forum. By the next day an expert from SolarWinds will answer your question. Register or Browse SolarWinds' Thwack forum.
AppInsight for Exchange
Having mastered AppInsight for SQL (or IIS), you can use the same SAM dashboard, and the same techniques, to monitor the performance of your Exchange server. Another parallel is that SolarWinds engineers have used PowerShell scripts for collecting the data. See more on AppInsight for Exchange.
Additional Free and Trial SolarWinds Network Software
Here are nifty gadgets which I have enjoyed testing on my network. Some are completely free, while other downloads are trial versions of the full product. I think SolarWinds have a great strategy, namely, supplying a free utility, yet providing a big-brother suite of programs for larger organizations.
• Mobile IT Admin App • SolarWinds PerfStack • Network Monitor for Dummies • Home
• Permissions Analyzer • Review Alert Central • Free NetFlow Analyzer • SolarWinds Firewall Browser
• Server Health Monitor • SolarWinds Web Help Desk • Wireshark Response Time Viewer • GNS3